Tesla Poised To Fend Off Short Sellers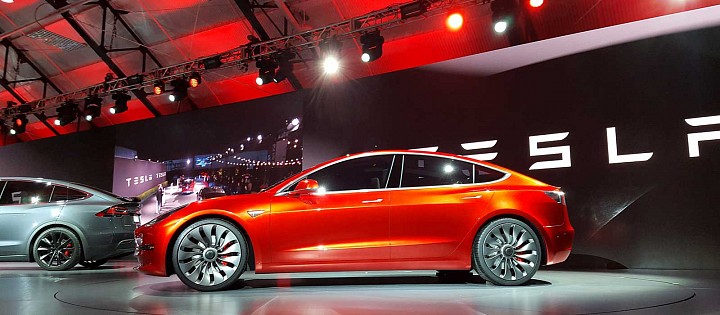 ---
Tesla Inc. (NASDAQ:TSLAC) is one of those companies that frustrates short sellers. Just when they believe there's an opportunity to drag the stock down, up it goes. Such was the case this week when Tesla shares hit an all-time high.
With nearly 32 million shares short, representing 31% of the float, short sellers have plenty of reason to be concerned. There have been multiple attempts to take the stock price down. All have failed. The simple fact remains – there are plenty of buyers and they want to invest in this company.
Related: APPLE'S NEW IPHONE ALREADY IMPACTING STOCK
The New Amazon
Baird analyst Ben Kallo recently predicted that if Tesla performs well and meets both production and launch goals moving forward, the price per share could reach $566. Current price for the stock is around $338.
Following Kallo's prediction, Gene Munster, co-founder and managing partner of Loup Ventures suggested 'Tesla could be the next Amazon.com Inc. (NASDAQ:AMZNC).' According to Munster, like Amazon, Tesla has gone beyond its initial space – in this case, electric carmaker – to positioning itself to help speed up transition to global renewable energy.
The question revolves around whether Tesla can replicate, in its own space, Amazon's success in transitioning from a core business (selling books) to a conglomerate involved in web services, brick-and-mortar stores and much more.
Model 3 On The Way
One key to Tesla realizing its potential will be the roll-out of the coming mass-market Model 3. The $35,000 electric vehicle, Tesla's lowest-priced car to date, is set to begin deliveries in July. So far there has been no word of production delays, a good sign for Tesla customers and investors.
The company indicated it expected to reach a production rate for the Model 3 of 5,000 vehicles per week at some point in 2017. With CEO, Elon Musk, confirming both production and delivery in July, the company recently released a Model S and Model 3 comparison table, outlining key differences between the two models. Tesla suggested the new vehicles final specifications were still being honed.
Related: ALPHABET DRIVERLESS CARS TO SOON START EARNING REVENUE
Self-Driving Tech Leader
Rounding out the feathers in Tesla's cap, Apple Inc. (NASDAQ:AAPLC) co-founder, Steve Wozniak recently said he believes Tesla is leading the self-driving technology space. Wozniak said that Tesla has, "put an awful lot of effort into very risky things." According to Wozniak those efforts have propelled the company forward.
Tesla's secret, Wozniak said has to do with his belief the Model S flagship vehicle was so personal to Musk. "It (the Model S) was really built for Elon Musk," Wozniak said. "When things come from yourself, knowing what you want in life and being in control of it, not letting others get every little aspect in it, that's when you get the best products."